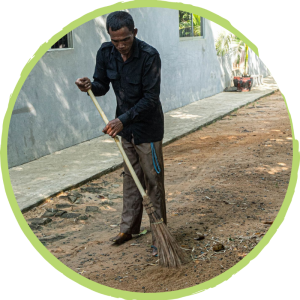 In 1989, at the age of 27, I joined the army, where I fought with the Vietnamese Government soldiers during the war.
I served, risking my life to win the war for 8 years. During the war, there were consequences such as lack of food, malnutrition, chronic illness, and some men were left with broken legs. Others died because of the mines, many people lost their families and are left to live with the memories that they can't forget.
After the war, I went to work in the fields at Pailin Province for money to support my family.  while working in Pailin Province, I was walking through the fields and right away I just knew that I stepped on mine, the floor exploded under me. I was in hospital for 1 month, They amputated my foot while I was at Pailin Province, but I was not recovering as well as they would like, and I could not afford the treatment in Pailin Province, it was too expensive. My foot became rotten so I was sent to Battambang where they amputated more of my leg (up to the knee). I stayed in hospital for another 2 months. It has been 22 years since I lost my leg.
"I AM NOW A GUARD AT SOKSAN INTERNATIONAL SCHOOL. WHEN I WORKED AT THIS SCHOOL, I FELT HAPPY BECAUSE I WAS ABLE TO SUPPORT MY WIFE AND CHILDREN."
So far, I have had five children now, 4 girls and 1 boy.  My  eldest daughter is a teacher at Soksan School, my second daughter is in 11th grade, but now she is at home because Covid-19 is not able to go to school. My son is training as a monk and for my youngest two daughters, they are twins now they study in Soksan Kindergarten.
I am now a guard at Soksan International School. When I worked at this school, I felt happy because I was able to support my wife and my children. And the children studied and worked at Soksan International School every day