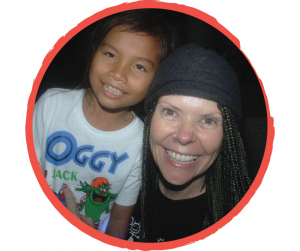 It all started when my daughter Sammy was 15 years old and about to do her Deb at school. I gave Sammy a choice, she could either do her deb OR she could travel overseas instead. There were some conditions though… 1. The trip must be backpacking 2. She must bring her mum 3. The trip had to be to a developing country.
Sam remembered back to a fundraiser we had attended where someone spoke about the Cambodian Children and how excited they were to receive soccer uniforms, this really resonated with Sam because she also played soccer, she really wanted to see these beautiful children, who were so excited over something which to her seemed quite small. She thought it sounded easy to help the children there and she wanted to go somewhere where she could make a difference.
We did what most ill-informed backpackers do and chose to work in an orphanage over in Cambodia, thinking that if we chose a well-known Australian Orphanage we would be ok. So that was it, decision made, we would visit Cambodia, Me, Sam and our dear friend Jess.
When we first arrived, it was nothing like we expected. We were really sad to see the way the children were living. We found them living in filth, it really was not very nice at all. Visitors could come and go without a police check. The children were so deflated and broken, they had no "spunk", they were not children as you would picture children… running, laughing, care-free. It really affected Sam.
When it was time to leave, she refused to get on the plane until I promised that I would do something to help these beautiful children. I already had 3 children, 2 clothing stores, a husband, and a busy life. I thought these would be all the reasons why I could not help… But Sam helped me to see, these were all the reasons why I had to help! So, it was agreed, I did not know how I was going to help, but we would find a way.
Before flying home, our next stop was Thailand (a 56-minute flight) during that flight, Sam had designed a bracelet that would later become the Cambodian Kids Foundation logo. In Thailand, we had thousands of friendship bracelets made with Sam's design, that we would go home and sell as a part of our fundraising efforts… little did we know at the time, Sam was not just designing a friendship band… she was creating a foundation!
"SAM WAS NOT JUST DESIGNING A FRIENDSHIP BAND... SHE WAS CREATING A FOUNDATION!"
Sam went home to Melbourne, Australia, while I still had some work to do and needed to travel to India, so I was to meet her home in a couple of weeks. By the time I got home, Sam was on the cover of every local newspaper, talking about the children in Cambodia and raising money to help them. Before we knew it we had raised over $30,000!!
Next my son Jack wanted to go to Cambodia to see for himself the work we were doing over there. He was just 14 years old at the time. Jack decided to stay on in Cambodia, to go to school with the children there in the slums, and get a real understanding of what life in Cambodia was like (you can read his story on page 14). At that time, Jack met his wonderful friends who would become his brothers and who are still a very big part of the Cambodian Kids Foundation family Bora, George & MC. Together these boys helped us find the village we would call home. Jack still lives in Cambodia and is happily married with two amazing and beautiful children.
There is a long journey between then and now which could fill a whole novel. The main thing is we found our beautiful village and our beautiful people who we love and care for so very much. We have helped them build homes, wells, a kindergarten and a beautiful school which has become the heart of the village. There is an amazing garden at the school where we hold lessons, grow vegetables and so much more. Working with the community, together we have provided the support and encouragement they need to do it for themselves. Now our village is healthy, well-nourished, well-educated and on the way to being fully sustainable.
It has taken us 15 years to build the Cambodian Kids Foundation to what it is today, and we still have a very long way to go before we are 100% sustainable, at least a whole generation away, but we are enthusiastic that we will get there. Without the amazing support of our sponsors we just couldn't do it, so from the bottom of our hearts… a massive thank you to the beautiful people who have been with us along the way. 
"THERE IS A LONG JOURNEY BETWEEN THEN AND NOW WHICH COULD FILL A WHOLE NOVEL."